In Cardiovascular Surgery, the surgeons have used heart and lung machine which we call extracorporeal circulation for many years. The idea of opening the anterior thoracic wall entirely and knowing the fact that the heart will stop during the surgery disturb patients and reduce the chances of returning quickly to their everyday activities after the surgery, while making them feel uncomfortable because of the noticeable surgical scars.

Today, Bypass Surgeries are being performed by surgeons through 4-5 cm. incisions "on the beating heart" in order to avoid such problems and provide an effective treatment for the patients. Therefore, it is possible to perform a heart surgery in order to solve obstructions of coronary artery which we call lad coronary artery (left anterior descending coronary artery) through a small incision on the beating heart.
Compared to common practices of Bypass Surgeries, this method has many advantages for the patients. These may include shorter time in the hospital, reduced pain, faster recovery, quicker return to normal activities and cosmetically smaller surgical scars. In order to analyze the effectiveness of this method, we made a study on 197 cardiac patients. According to our study, Minimally Invasive (small incision) Bypass Surgeries through 5cm. incision lasts for approximately 90 minutes and the patients were taken from intensive care unit after about 6-14 hours from the surgery. They stayed 4,5 days and then, were discharged from the hospital.
In comparison with the usual Bypass Surgery cases, these patients needed lower dose of painkillers during their hospitalization period. As they have reduced pain, they recovered in a way that was faster. According to our surveys that are based upon specific scales, after one month from the surgery when the patients came for the examination, it was seen that they have returned to their normal activities in a shorter period of time than in usual Bypass Surgeries. In the long-term follow-ups, only 7 patients had vascular obstruction of graft and only 1 patient needed to have another surgery. Our control group which we call "median sternotomy" had the "usual" Bypass Surgery through 30 cm. incisions which cause them need more dose of painkillers. Statistically, they felt much more pain and became mobilized later than those who had Minimally Invasive Bypass Surgery.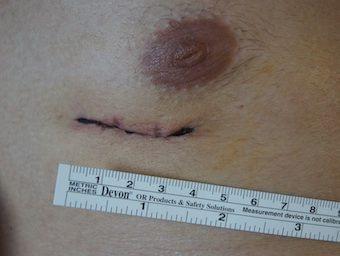 Our study has shown that the Minimally Invasive Bypass Surgeries on the beating heart are more favorable in terms of reducing post-surgical pain, becoming mobilized, hospitalization duration, faster recovery and quicker return to normal activities comparing to usual Bypass Surgeries. There is no difference in effectiveness between these 2 methods in the long-term treatment of a Bypass Surgery. However, minimally invasive Bypass Surgery offers many advantages in those for whom it is appropriate.